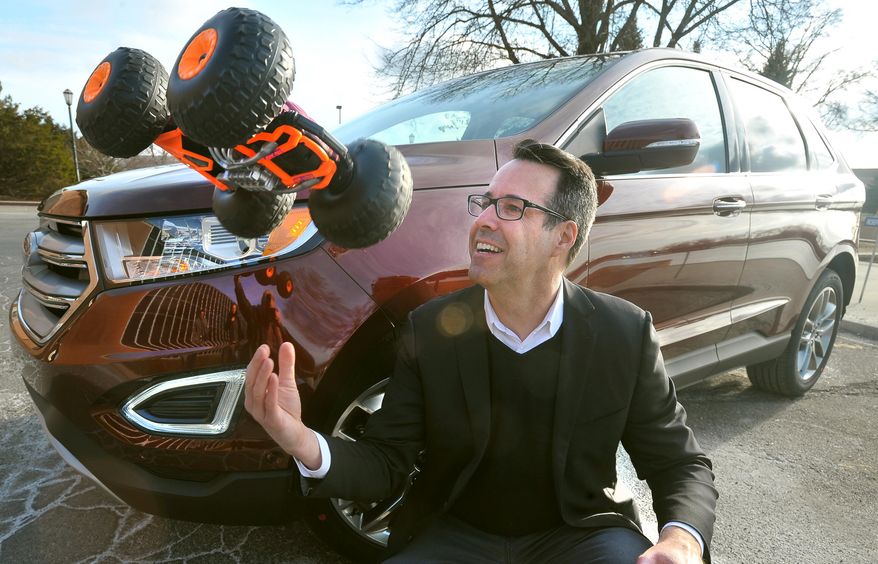 Any former 10-year old with a growing collection of Hot Wheels coupled with any kind of artistic inclination wanted to design fast cars at some point in their lifetime. Kevin George, the designer at Ford responsible for the bold look of the Ford Edge, was similarly inspired by toys and worked in the toy design industry for years before transitioning to making 'big boy toys' in Michigan.
"The passion that kids had for their toys – I want them to grow up and have that same passion for their cars," George told The Washington Times after walking through the 2015 Edge crossover at its debut in March. This childlike exuberance has found its way into every aspect of the vehicles overall design. The new Edge is slimmer, sleeker, smaller and sportier than ever before.
So where did George get his start? After going to university for an industrial design degree, George went to work for a toy company in Cincinnati called Kenner. The company had recently landed a major Hollywood connection by earning the rights to produce Star Wars toys and wanted to move in a direction of making Hollywood-related car toys. George's first product with the company was a toy car from the movie "Ghostbusters," and a similar project for "Jurassic Park" soon after.
The production schedule for designing, molding, shipping, and distributing the movie toys was so hectic in fact, that George had a large hand in designing the on-set props. This was because the time it took to make the toys from start to finish was effectively longer than the time it took to make the entire movie.
With such a large imprint on culture then, George was an exceptional addition to Ford when he came on as the chief interior designer for the 2005 Mustang. George felt right home, saying Ford did designing "…the same way we did at Kenner. With a movie toy you ask yourself: 'What is the core fantasy of this film?' With a car it's the same. 'What is it that people like about a '67 Mustang?' I knew what to do. I knew how to capture the essence of the Mustang."
If you want to see some of George's work, stop by Beach Ford today!